Travel Information
Kyoto city

Since Kyoto had been the capital of Japan for more than one thousand years from 794 to 1868, Kyoto is the most historic and attractive city in Japan. Seventeen World Cultural Heritage Sites as designated by UNESCO are the jewels in the crown of Kyoto city. Nowhere else in the entire world boasts this concentration of treasures important to humanity. From the power of the ancient warriors embodied in Nijo Castle, to the contemplative atmosphere of the Zen rock garden at Ryoanji Temple, to the colourful pageant in May of the Aoi Festival at the Shimogamo and Kamigamo Shrines, these attractions transport the visitor to an exotic world. These sites are all located within or on the outskirts of Kyoto City. Half- and full-day tours are easily arranged, or alternatively all of these places are accessible via public transport and taxi. Owing to the traditions inherited by its citizens, Kyoto continues to maintain its name as the capital of culture.
See "travel information" -> "About Kyoto"

Gozan-no-okuribi (Daimonji okuribi)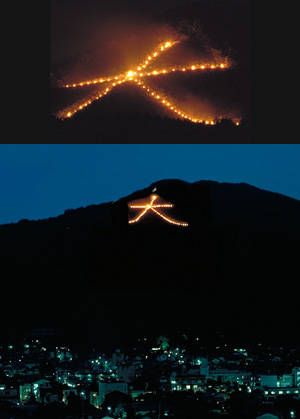 Gozan-no-okuribi, meaning "the fires sending back our ancestors lit on the five mountains", is one of the most traditional and impressive events in Kyoto. Giant Chinese letters and symbols are enlightened silently in the complete darkness of the night of midsummer. The fires are lit in sequence from east to west on the five mountains surrounding Kyoto starting from the Daimonnji mountain with red fires shaping the Chinese character of Dai meaning of "Large" followed by the other four "Myo-Hou", "Funagata", "Hidari-Daimonji" and "Torii". This event origins from ancient religious activity to fire the torches to send back the ancestors temporarily staying for a few days with the people in the present world during the O-bon festival in August to the world beyond. With this event taking place in middle of August, people appreciate the summer they enjoyed and feels the breeze of the coming Autumn they have expected. The event has been close to the heart of Kyoto people, and hundreds of thousands tourists gather to Kyoto in the evening of August 16 to share this feeling.



International access

Kyoto is located in the centre of Japan, only a little over an hour away from Kansai International Airport (KIX). Narita International Airport (NRT) near Tokyo and Central Japan, Centrair, International Airport (NGO) near Nagoya and other international airports are available.
See "travel information" -> "Access"


Domestic transport

The legendary transport network in Japan makes your journey to Kyoto part of the experience. Kyoto is easily reached from other cities in Japan. The Shinkansen "bullet train" covers the 510 km (320 miles) from Tokyo in an remarkable two and a quarter hours.
See "travel information" -> "Access"


City transport

The compact modern city of Kyoto is a delight to stroll in because it is laid out in the ancient grid street layout. In addition, the excellent subway, rail, and bus services make Kyoto the "30-minute city" - various destinations can usually be reached within half an hour.

♦ Two subway lines: North-South and East-West, end-to-end in 25 minutes
♦ Subway station signs are marked in Japanese, English, Chinese and Korean
♦ Bus destinations and announcements are in Japanese and English
♦ All bus stops are named: newcomers can easily follow the bus map
♦ Taxis are plentiful: drivers are licensed to guide their passengers around Kyoto
♦ Sightseeing spots and hotels are located with easy access to subway and buses
See "travel information"-> "About Kyoto" -> "Getting around Kyoto"